PTA Celebrates Mother's Day and Comic Relief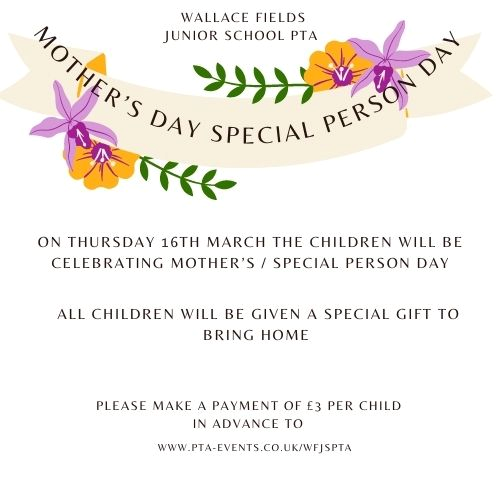 10 March 2023
PTA will be very busy next week with two events.
Mother's /Special Person Gift - 16th March 2023
Click here to make a payment of £3 per child for the gift.
Comic Relief - Friday 17th March 2023
Friday 17th March 2023 is Comic Relief Day and in school we will be holding a sponsored walk/run where we will donate 50% to Comic Relief and 50% to the WFJS PTA and all children should wear sports mufti.
Please click here to pay sponsorship online.
Events coming up next
Thursday 23rd March 2023 - Easter Egg design competition deadline. Winner will be announced on 27 Mar. Suggested donation of £1 per entry via PTA events.
Friday 24th March 2023 - PTA Comedy Night @ 19:30. Tickets are £20 via PTA events
Monday 27th March 2023 - Happy Bag collection outside school. Please leave your bagged items by 10:00am See what you can donate here.
Friday 5th May 2023 - Wallace Fields Race Night. Tickets will be going on sale on 3rd April.
Latest PTA posters