Safeguarding Children
Any concerns about a child's welfare are taken extremely seriously and all staff and volunteers are aware of our child protection policy and procedures. The Designated Safeguarding Leaders will ensure that concerns about our pupils are discussed with his/her Parents/Carers first unless we have reason to believe that such a move would be contrary to the child's welfare. Sometimes we may need to share information and work in partnership with other agencies when there are concerns about a child's welfare.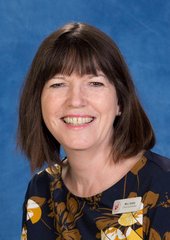 Mrs Boddy
Deputy Designated Safeguarding Lead and School Office Administrator
Wellbeing
We take wellbeing very seriously at Wallace Fields Junior School and have a team of Wellbeing Champions and Emotional Learning Support Assistants in place to help pupils with the wellbeing. Click here for our wellbeing page https://www.wallacefields-jun.surrey.sch.uk/our-school/wellbeing
Bullying
Our anti-bullying policy is to ensure that children learn in a supportive, caring and safe environment without fear of being bullied. If bullying is suspected or reported, the incident will be taken seriously and recorded and dealt with as soon as possible by the member of staff who has been approached. If deemed to be bullying, the teacher responsible will speak to the pupils involved. If the matter can be resolved in school without the need for parental contact then this will be done and monitored by appropriate member of staff, teacher responsible, the Deputy Head and Head teacher. It may be decided that parents should be informed immediately and this will be done by the Deputy Head or Head teacher. A written copy of events will be kept and this will be updated until the situation has been resolved. For our full anti-bullying policy see below.
E-safety
We treat E-safety very seriously at Wallace Fields Junior School. Internet use is a part of the statutory curriculum and a necessary tool for staff and pupils. Children are encouraged to use the internet as a resource when carrying out research work across the curriculum (netsweeper with Talk Straight as well as Sophos), for both home and school work. The school Internet access is provided by ISP Talk Straight and includes filtering appropriate to the age of pupils. Pupils are taught what Internet use is acceptable and what is not and given clear objectives for Internet use. The school's appointed E-safety coordinators are the Head teacher and the Computing subject leader Miss C Day. For our full e-safety policy see below.
Some useful links for more information on E-safety are as follows:-
https://www.gov.uk/government/groups/uk-council-for-child-internet-safety-ukccis
https://www.betterinternetforkids.eu/
Safeguarding policy and other documents
E-Safety and Acceptable Use Policy