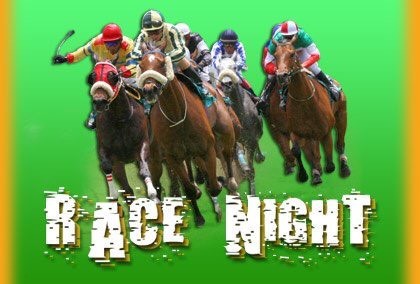 Come along for an evening at the Races - regardless of the weather! Bet on races at the tote, eat fabulous food and enjoy a tipple or two just as if you were at a Epsom Downs Race Course! It kicks off at 7.30pm on Friday 11th October with the first race at 7.45pm
How Does It Work?
Turn up either on your own, as a pair or even as a large group! Read your race card, place your £1 bets at the tote, say hi to some new or familiar faces and then sit back and enjoy a nice beverage or some yummy food whilst watching real races played on the big screen. If you've been lucky enough to bet on the winning horse then go and collect your winnings!

Owning a Horse.
What's this, I hear you say? For every ticket purchased you get to own a horse (one owner per horse, issued on a first come first served basis). While your horse is running you get to join the owners enclosure to watch that race and enjoy some VIP treatment. ;)
Help Required
To make this event successful help from parents, friends etc is always appreciated. There are a number of slots that need to be filled to help run this amazing event, such as set up, clear up, entrance, tote etc. If you can offer a helping hand at the event please email WFJSPTA@gmail.com.
Details
Tickets are £8 per person and include a welcome drink, table snacks and a race horse for the evening.
Food and Drink
Food is available for an additional £5 per person and the delicious menu being served is either Cod Goujons and Chips or Halloumi and Chips. (If you have any allergies please let us know and we will find a suitable food option for you) However, food does need to be booked in advance so please remember to secure your dinner by 5th October through the ticketing website.
It wouldn't be a full racing experience event if there weren't a few drinks available, so a cash bar will be operating throughout the evening.