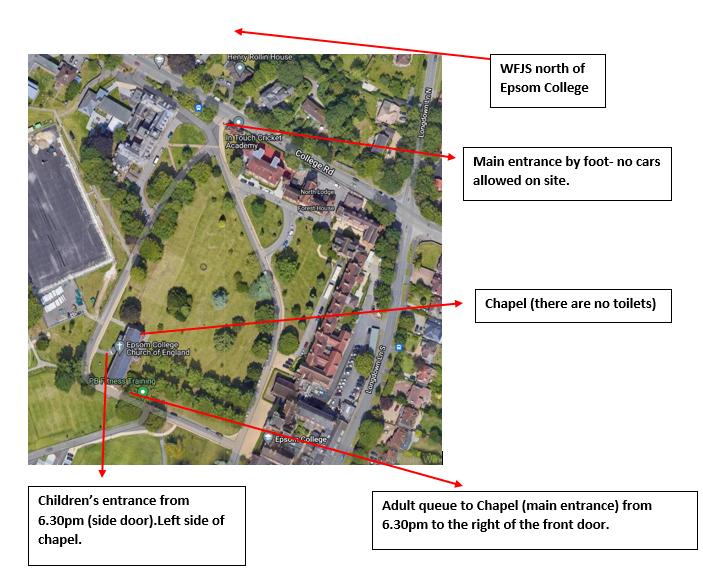 We are all looking forward eagerly to our Christmas Concert on Monday 12th December at Epsom College Chapel and rehearsals are well underway.
No Parking at Epsom College
There is no parking at Epsom College so you will need to leave enough time to park in local streets and walk up to the chapel. If you require disabled parking then please contact Wallace Fields Junior School office by Friday 10th December 2022 and we can arrange permission with Epsom College.
Timing of event and access
Epsom College have asked that NO ONE arrive on site before 6.30pm as the end of their school day is extremely busy with coaches and cars. The chapel now has display screens (see image) so all seats have a good view of the children and there is plenty of room for everyone. There is extra seating behind the children and on the balcony at the back of the chapel.
Pupils at WFJS will enter through the side entrance on the left hand side of the chapel where their teacher will register them.
Parents/carers will need to enter through the main entrance to the right of the front door. Please queue to the right of the door (uphill) allowing space for disabled access on the ramp.
Entry is based on first come first served, queuing from 6.30pm. With a restricted capacity in the Chapel, we politely request that immediate family only attend.
The concert will start at approximately 6.45pm and will last for about an hour.
Guests and Governors
We are extremely lucky to have so many people that give their time freely to the school, whether as school governors, reading helpers, librarians, and teaching helpers. To thank them we offer them
reserved seating at the Christmas concert.
Volunteers for walk to rehearsal
Thanks to all parents who have already volunteered to help walk the whole school to and from the Chapel for a rehearsal on Monday 12th December 2022. We will be leaving school at 9.00am and be returning at 11.30am. If you can help, though are yet to let us know, please email Office1@wallacefields-jun.surrey.sch.uk
Collecting Children at the End of the Performance
After the concert, parents and visitors will exit out of the same main doors. All WFJS children exit out of the side door. The Year 3 (and siblings of Year 3 with siblings) leave first, then Year 4 (and siblings of Year 4) and so on. There will be marked out areas, on the grass, to the side of the chapel for each year group. The children wait with their class teacher in the year group area. All children are dismissed directly by their teacher to their parent/carer. No children will be permitted to walk home alone. Your patience and cooperation is very much appreciated. If your children are collected by anyone other than a parent / carer please email the class teacher by midday on the day.
We expect all children to attend unless informed
All children should attend. If for religious reasons, your child is unable to attend, please either send a written note to the class teacher or email the school office as soon as possible. If we do not hear from you then we shall expect your child to attend the rehearsal (on the morning from school) and the evening performance.
What does my child wear?
All children wear full school uniform and ensure hair is brushed, tidy and tied back. They will need a coat as they will be walking to and from the chapel, and entry and exit may involve some standing outside whatever the weather
Photographs of the evening
You can to take photographs and videos of the event for your personal use. Please do not share on social media as some parents have not given permission for their child's image to be shared and their wishes should be respected. Mr Johnstone, the music teacher's husband, will be taking some official photographs on the night.
Twitter Permission
We have a number of Year 3 children who we do not yet have permission to be Tweeted and it makes it difficult to share memories of our concert on our website, bulletin and Twitter. The school uses Twitter to share the exciting activities happening at school click here to see our Twitter page and it is easily accessible from our website. Most parents change permissions in Year 4 when a school trip happens and they want to see their child on residential so it would be good if you could consider this now. We have no children in Year 6 without permission currently. We fully understand your reasons to not permit this, however, please email the school office on Office1@wallacefields-jun.surrey.sch.uk as soon as possible if you would have happy to change your child's status to allow their image to be tweeted.
Charity collection
We will be raising funds for "Save the Children" at the end of the concert. Some children will be shaking a collection bucket as you depart so please bring some cash. Thank you.
Thank you again for your support and cooperation and we hope you enjoy the concert.
Kind regards
School Office
Office1@wallacefields-jun.surrey.sch.uk